Are you tired of receiving unsolicited emails from websites that need you to subscribe in order to view the content? We are here to help you with best disposable email addresses providers.
Emails have become a vital piece of data in today's world. You must have an email in order to see a webpage's content, watch videos on video streaming sites, or download academic resources such as research papers, question papers, and so on.
While the majority of these sites may be genuine and verified, several of them may utilize your email address and the information included in your emails for harmful purposes. It would result in a data breach and an invasion of your privacy. Disposable Email Addresses also worth noting that the massive spam emails generated by these websites will eat up your email's memory.
This is when disposable email addresses (DEAs) come in handy. Let's take a closer look at what DEAs are and why we should employ them. We will also go over how to choose the best DEA suppliers as well as some of the best Disposable Email Addresses providers for account signups.
What is a Disposable Email Address?
A disposable email address, often known as a DEA, is a technique that allows a genuine user to receive an email at a temporary email address that expires after a certain period of time.
Several online discussion forums, websites, and blogs require readers to register before they may post comments, view premium content, or download white papers. Users can use a disposable email address to sign up and complete the registration procedure without exposing their regular email account to spam.
In contrast to a DEA account, which includes inbox, respond, and forward options, a disposable email address is only a mechanism that redirects emails to the user's primary email account.
10 Best Disposable Email Addresses (DEA) Providers 2023
Because most sites demand verification after registration, it would be best if you also looked for a provider that can provide temporary message storage. Finally, seek out a provider that allows you to generate Disposable Email Addresses without making a request.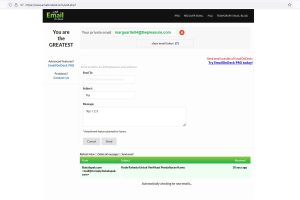 EmailOnDeck is one of the most user-friendly disposable email address providers, allowing customers to create email accounts in only two steps. It is a free service that stores incoming mail for about 24 hours. You can speed up the process by clearing your cookies or closing the browser. Only premium subscribers can send an anonymous email to any email address.
Free users, on the other hand, may send secure emails to other EmailOnDeck accounts. Ads are also deleted from a premium account, and customers have the option to keep the generated email address. The EmailOnDeck website is secure since it uses HTTPS access and TLS on the provider's servers.
10 Minute Mail is a temporary email account that lasts only 10 minutes. However, if you want more time, you may request an additional 10 minutes. After a 10-minute countdown on a timer, your email is wiped.
Despite its time constraint, 10 Minute Mail is a great free disposable email service since it is so simple to use. 10 Minute Mail will notify you anytime a new message comes in. New messages are particularly noticeable since they appear on the same page. You may react to and forward emails on the site.
Burner Mail browser extensions for Chrome and Firefox let you create and use temporary disposable email addresses, often known as burner email addresses. Burner Mail emails are routed to your account while preserving the privacy and security of your inbox and identity.
Emails sent to DEAs are routed to the temporary email address you choose, which prevents the sender from identifying your true address. Burner Mail generates a unique and anonymous email for each service you sign up for, making it extremely difficult for businesses and marketers to track you down online. The free edition of Burner Mail allows you to create up to five burner disposable email addresses. In the subscription edition of Burner Mail, however, an endless number is accessible.
Internxt is best known for its secured cloud storage, which also has a substantial free tier. It does, however, provide one of the most user-friendly interfaces for throwaway email accounts. Internxt private inboxes expire after three hours of inactivity, as seen in the image. Furthermore, once you select Delete email, there is no way to return to a certain mailbox.
Still, it fulfills its function, and it is simple to use for online registrations. Furthermore, if you survive its idleness restriction, you may bookmark it, and it will remain there even if you close the browser tab.
TempMail is the best short-term email solution currently available. It is really simple because there are no passwords, registration requirements, or payment restrictions. Visit the website and then copy the email address generated at random.
Because the inbox is regularly updated, you will get critical communication. After two hours of storing emails received at the address, your IP address and other personal information are erased.
Because they contain a genuine username and domain address rather than the arbitrary string of letters that most disposable emails use for their username and domain name, temporary disposable email addresses are often confused for professional ones.
StartMail differentiates itself from the competition by providing limitless throwaway email alias addresses with each email account. Customers may expect top-tier email security, tracking and ad-free inboxes, one-click email encryption, and simple email migration from the encrypted email provider. Using StartMail's email aliases keeps your true email address concealed from websites and people with whom you connect. If your email address has been sold or disclosed as a result of a data breach, just remove the alias and create a new one to secure your inbox from spam and data breaches.
MyTemp.email is a free disposable email service that provides users with a random email address to use for purposes such as signing up for new websites or testing out questionable services. You merely need to open a new inbox to acquire your mail ID.
The email address is only valid for 24 hours, and the inbox refreshes automatically. You can also use sound notifications, desktop alerts, auto-open URLs, and custom domains.
Any emails received via myTemp.email servers are instantly displayed in your web browser's inbox. The zone salting functionality allows for single-session private domain use without registration. In your zone, accessible resource disposable email addresses are offered, and records are verified as you proceed.
Guerrilla Mail is a popular temporary email provider that allows you to customize your username. You do not need to register or provide any personal information to use this service. Guerrilla Mail allows you to send and receive messages for free, and their disposable email addresses never expire. Your email is saved for an hour before being deleted automatically.
Because anybody with your email ID may access your mailbox, you can send messages with a scrambled address. This increases the protection of your privacy. To delete your address from the system, click the 'Forget Me' option. Guerrilla Mail functions as a temporary email service as well as a password manager.
FakeMail is the most effective temporary mail platform available, and using it is extremely simple and does not require technical skills. Other temporary mail services need more information, which negates the aim of maintaining anonymity and privacy. The given temporary email will be deactivated in 60 minutes.
It can no longer be viewed after it has been erased. As a result, your privacy and anonymity are guaranteed. FakeMail is designed to provide many temporary email addresses at the same time to sign up for websites, promotions, discounts, and other informational sites.
ThrowAwayMail is another service that gives away email addresses. The newly created email account is ready to receive emails immediately. Any incoming email will be shown on the website's home page. Nobody else will be able to see the emails you receive. Keep in mind that an email account that expires after 48 hours is the best.
When an email address expires, it and any emails sent and received are deleted. Every time you visit this website, a new email address is generated. You may use ThrowAwayMail to provide someone with an email address and sign up for a website or online service without revealing your identity.
Conclusion
Giving our email address to register for a new profile or website or to complete a transaction is a standard routine. However, this seemingly innocuous action exposes your email address to vulnerabilities, unsolicited spam, and targeted ads.
In this case, a throwaway email account comes in handy. You may use these services to create a temporary email account that you can use in place of your primary one. By doing so, you can avoid receiving years' worth of spam emails and being susceptible to targeted marketing and data breaches if a website is hacked. So, if you want to visit websites that require sign-ups without risking your email, utilize disposable email addresses.